A selection of my Aviation Paintings
Please note, some of these images are now available as giclée prints, suitable for framing.
Details on how to order : e-mail adminnca "at" dhc-2.com
"DENALI DENIZEN"
Acrylic on Canvas 24" x 36"
NCA © 2006
Photo of painting : Neil Aird
A sprightly 51 year old, ski equipped, de Havilland DHC-2 Beaver, the consummate Canadian Aviation icon, shown earning her keep on the 63rd parallel near Denali in Alaska.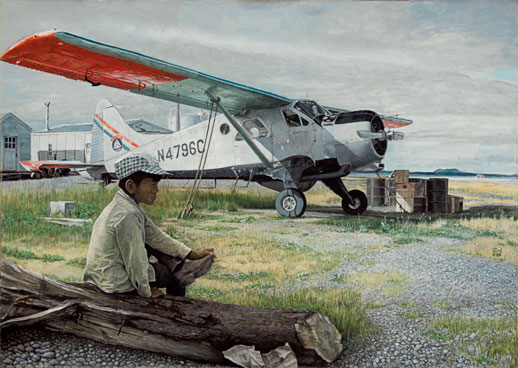 Neil Aird © 1992
" Boy and Beaver "
A Civil Air Patrol de Havilland DHC-2 Beaver
N4796C c/n 354  shown tied down at Kotzebue, Alaska, in 1966.
Acrylic on canvas 20" x 28"
NCA © 1992
Photo: Derek Cooper
This painting has been exhibited at ;  
Ottawa, ON (twice)
Kingston, ON
Winnipeg, MB
Wetaskiwin, AB
Yellowknife, NT
Victoria, BC
Downsview, ON
Gatineau Airport, QC
29 years after posing for my painting and receiving a  few mods - here is the same Beaver photographed
at American Lake, Tacoma, WA in 1995 and even a more recent photo in 1999 after export to Canada.
We meet up again after 38 years!
Photo: Bill Hann © 19 September 2004
" Definately a CAVU Day "
Acrylic on canvas. 20" x 28"
NCA © 1992
Steve Konopelky's Beaver
C-FIDF c/n 1321
sets out from the dock at Lillabelle Lake, Cochrane, Ontario.
Photo: Derek Cooper
Below: " Misty Mission " a commissioned work for a book.
Photo: Derek Cooper
"Misty Mission"
 Acrylic on canvas
 24" x 18"
Neil Aird © 2003
The 243rd and 230th de Havilland Canada L-20 Beaver utility aircraft
from the Downsview production line,
United States Army tail numbers 51-6789 and 51-6783,
break formation and head in different directions
in the early morning sunlight
over South Korea in 1952.
This painting was commissioned for a book 
" Canadian Airmen and Airwomen in the Korean War" 
by Carl Mills. Note: Sadly Carl passed away before book was published
This painting has since been donated to Canadian Air & Space Museum , Downsview,
and hung in the hangar where the Beavers were actually assembled !
(Now probably in store until museum finds a new home).
A comment was received from a retired Army aviator in the southern United States, made my efforts worthwhile, after all this scene was from my imagination!


>>

Dear Neil:  




Greetings and thank you for the message. Congratulations are in order for the beautifully done painting and the fact that it will be displayed in a place of honor at the Toronto Aerospace Museum. In my opinion, you captured the right feeling and it brought back memories of years past,when I was young, flying the US Army L-20 Beaver in "The Land of the Morning Calm", years 1951 to 1952.  




>>>




Warm regards. Colonel(R) Carlos E. Urrutia
" Spirit of Jervis "
This small acrylic on canvas painting shows
Air Rainbow
Beaver
C-FIUY
over the
coastal mountains of British Columbia under darkening overcast with active
rain squalls in the distance.
Exhibited in "Artflight 1993" at Ottawa, Ontario.
" At the Dock "
Piper PA-18A Super Cub
C-FTUI
awaits patiently for an outing, at Cranson Lake, Québec.
Watercolour on paper.
12" x 16" 31.0 cm  x 41.0 cm
Neil Aird © 1996
" Oscar Hotel Alpha "
Sikorsky S-58T C-FOHA sits in the January fog at Kingston Airport.
This Ontario Hydro helicopter now operates with St. Louis Helicopter at Sellersburg, Indiana.
Watercolour on paper.
14" x 20"
Neil Aird © 1987  
"Transport 996" at Kingston Airport.
This Government of Canada, Department of Transport Beech 65-B80 Queen Air C-FCGS (LD-404) was a regular at CYGK.
Shown here on the ramp on a typical autumn day. My first aeroplane painting, and watercolour, since I was a lad.
Watercolour on paper.
12" x 16"
Neil Aird © 1987